Warning
: file_get_contents(): php_network_getaddresses: getaddrinfo failed: Name or service not known in
/www/htdocs/w00e5436/Handbook/wp-content/plugins/digg-digg/include/dd-class.php
on line
1202
Warning
: file_get_contents(http://feeds.delicious.com/v2/json/urlinfo/data?url=http%3A%2F%2Fhandbookofawesome.com%2F2012%2F04%2Fmeetings%2F): failed to open stream: php_network_getaddresses: getaddrinfo failed: Name or service not known in
/www/htdocs/w00e5436/Handbook/wp-content/plugins/digg-digg/include/dd-class.php
on line
1202
Dilbert: "I have a sudden urge to grab you by the tail and beat myself to death."
Catbert: "That's how I know I won the meeting."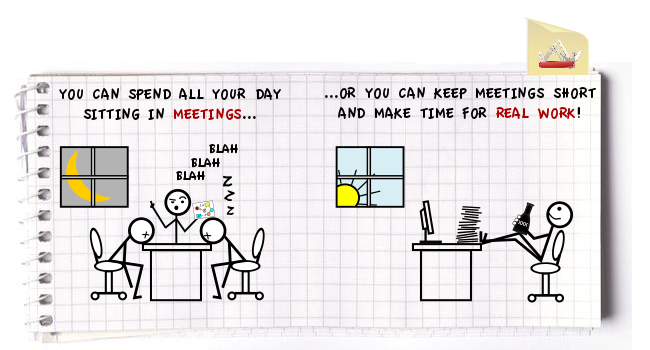 Pointless meetings have become the scourge of modern office life, depriving companies of valuable working time and people of valuable will to live. They are the knee-jerk response to any challenge we face at work: Whether the office needs re-decorating or the coffee machine has broken down, the response is always the same: "Let's hold a meeting, start the projector and invite everyone!"
This doctrine results in an overwhelming amount of meetings, which usually are so poorly administered they don't even achieve whatever they're meant to, resulting in yet more meetings. It's like the mythological Hydra, only instead of chopping off its heads, you drink mineral water and lukewarm coffee while listening to a debate about what kind of plants the new office-decor should feature. This can be excruciating if you have a deadline breathing down your neck, since as Peter Drucker points out in his book The Effective Executive, "one either meets or one works. One cannot do both at the same time."
From the perspective of the invitee, the best solution is often to avoid going in the first place. As Leo Babauta points out in his great book The Power of Less, you should always ask people if they really need you for a meeting. If they say yes, ask if you couldn't give your input via email, via telephone, or in a 1:1 talk. Or maybe they only need you for 10 minutes during that 4-hour meeting, so how about you only show up to give input during that slot? Another good tip is to say that your schedule is still unclear, but you'll see if you can make it. Unless you're in a pivotal role, this will allow you to play it by ear on the day of the meeting depending on your workload.
Looking at it from the other side of the table, what if you want to hold a meeting yourself? After all, you forfeit the right to gripe about pointless meetings if you're part of the problem! Much has been written on the nuisances of typical meetings, so ignorance is no excuse either. What are some of the classic mistakes you want to avoid?
Inviting people who don't really need to attend.
Not having attendees prepare for the meeting.
Not enforcing a strict timetable/agenda for the meeting.
Not communicating what the meeting is for.
Letting the conversation veer off topic or allowing the discussion to become disorganized.
Not ensuring that all opinions are voiced.
Even though everyone knows about these issues, they're prevalent in almost any office on the planet. One study showed that of workers who attend meetings on a weekly basis, 75% felt that the meetings were ineffective to some degree! So what are the main things you can do to make sure your meetings are as brief and effective as possible? Three clear focus-areas can be identified.
1.    Structure
Keep the meeting as short as possible, never longer than an hour. If you plan a meeting that's more than 3 hours, do the courteous thing and also bring razorblades so people can end their own misery.
Create an agenda where every item has a defined and binding amount of time you can use for it.
Let everybody know in advance, what goals and decisions need to be reached in this meeting. If you want to foster pointless discussion, host a book-club instead.
Send out the agenda well-ahead (at least a week before the meeting), and let people know if they need to prepare for the meeting. Be strict but realistic here. Emphasize that not preparing is a waste of everyone's time, but don't send out a 500-slide deck and demand that everyone read it.
Every meeting needs a chairman/woman who's responsible for keeping the meeting on schedule. This is probably you, since you called the meeting, but resist the temptation to buy a gavel (although it would come in handy).
2.    Communication
Make sure you invite only the right people, keeping the group as small as possible. Before sending an invite, always ask yourself: "Does this person really have to attend?"
The chairman needs to take control of the discussion, letting people know when the subject/agenda-item changes. If the attendees want to discuss something unrelated to the topic at hand, ask them to schedule a different meeting.
Make sure everybody has a chance to voice their opinions. The primary strength of the meeting vis-à-vis working individually comes from the diversity of views and opinions, so don't let the discussion be dominated by one or two voices only! If necessary ask people to give their opinions in written form or vote anonymously.
3.    Action-orientation
Meetings are meant for making decisions and finding solutions, not for ranting, griping or dwelling unnecessarily on problems. Keep the discussion solution-oriented and leave the grandstanding for the company xmas-party.
Always make sure, every agenda item ends with a decision and clear to-dos including responsible people and dead-lines.
Finally, if you're working on a large, interconnected and complex project, it may be worth holding staff-wide SCRUM-meetings e.g. in the mornings. SCRUM-meetings are held standing up and everyone has about 30 seconds to explain what they've done the day before, what they plan to do during the day and whether or not they've hit any stumbling blocks. No discussion is allowed during the meeting, it just gives everyone an overall picture of the project. Scheduling it early is also a good way of making sure everyone shows up on time.